Google had on September 14 sent out invites for a September 18 event to " share details on the launch of a new product developed grounds up for India." The Google Tez app has been launched today on Play store and is expected to be launched physically by our Finance Minister, Sh. Arun Jaitley.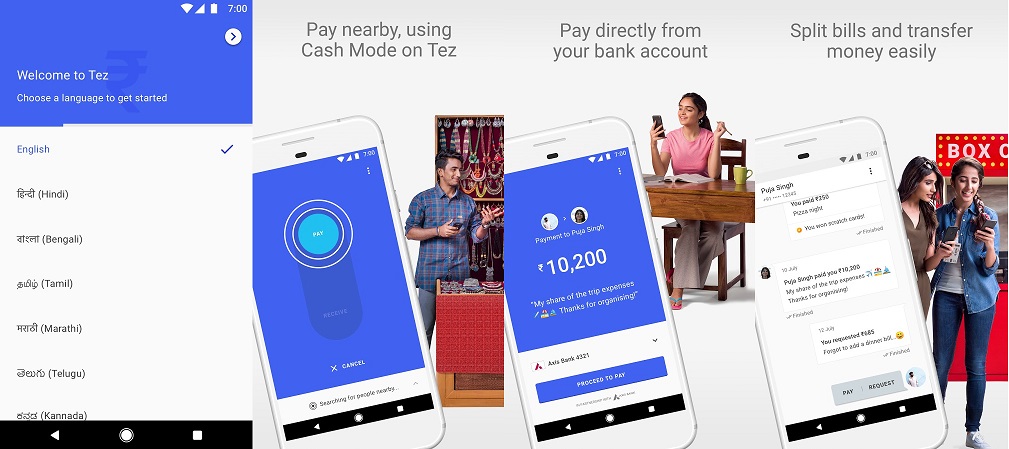 In July, the National Payments Corporation of India (NPCI) had said Google had completed the testing of its Unified Payment Interface (UPI) payment service and was awaiting RBI's approval to launch its service. So it seems obvious this will be a payment app based on UPI.
Why the Tez App launched by Google is different from other payments app ?
Tez will offer a comprehensive set of payments options like government-backed Unified Payments Interface (UPI) along with Google's own suite of apps and other popular payments services in India.
So what is really new with this App and how does it differ from the many other payments apps ?
Well, it is cross platform and payment provider agnostic to begin with. In simple terms you get the benefit of being able to choose any bank / wallet provider of your choice. So with the Tez app you do not need to top up or store balance on the app , and just transfer through your bank directly at the time of transaction.
Secondly, we expect the app to be highly local and simple to use which are the highlights of any GOOGLE product.
Thirdly: It has some innovative features such as Cash Mode and we believe the Tez for Business interface will also be very simple. But most importantly, google rules our online life in multiple aspects and we at Creative Spark believe that Google will cross promote and integrate this app through it's other products and vica-versa , leveraging its size and reach.
Features of the Tez App
Tez App Feature Highlights
1. Supports various local languages including Hindi, Bengali, Gujarati, Kannada, Marathi, Tamil and Telugu. Available both on android and iOS. This localisation feature of Tez app is very important.
2. Straightforward User Interface. Verify Bank a/c once and then you are able to make payments.
3. Social aspects – also see friends who are using the app, pay them via their contact. Also earn by inviting friends
4. Cash mode option is unique to this app. Identify person near you by audio and pay him. Example use case: pay your Sabziwalla standing near you by the Tez app.
5. RedBus, PVR Cinemas, Domino's Pizza, DishTV and Jet Airways are launch partners. Banking partners for backend include SBI, HDFC and ICICI banks.
6. Business messaging to promote services and offers – services and payments now seamlessly integrated.
7. Tez Shield to avoid fraud. Compatible with Touch id on iOS
How to Use the Tez App ?
Tez App: How to Use and make Payments
1. Firstly , it can be downloaded from here.
2. If you are a business owner or merchant and wish to use the Tez app for business , check more details here
3 a). Easy user interface. One time addition of bank account and verification by text message.
All Banks which support UPI which includes all major banks can be added. User first has to input their mobile number when setting it up. After that, user can set a secure lock code for the app via Google Pin or just use the screen lock pattern/pin/password.
3 b) For UPI-based transactions, you will be asked to link the relevant bank account, and you'll have to keep the debit card handy as well to set this up. This is separate from the PIN above so an OTP from your specific bank will verify this. It appears you can link multiple accounts.
4. Pay to people you know or pay for various services from ordering a pizza to booking tickets. Share with friends and see them visible through your phone contacts. You can see those who are using and also invite those who aren't. You can Make payments via phone numbers or these contacts, QR code or UPI Id.
5. Pay someone standing near you using the Cash Mode without sharing any sensitive information. Just by Audio proximity sensing. You are prompted for confirmation before paying.
6. Enjoy free surprises using Tez Scratch cards by Google. No need to search for coupons. Simply use the app. According to some reports you also get some amount for inviting friends.
7. As a business owner, send offers DIRECTLY to customers about your business using the features of Tez App.

Stay tuned for more as we review the app. Our view is that the way google is investing in the app landscape of India, the growth of App development and ecosystem is bound to increase as also mentioned by us earlier. All this means good news for any Indian mobile App development company.
[Update: 20-Sep-2017]: Google's Tez App seems to be doing well after a few initial hiccups reported by users related to inability to add bank accounts – in the first few hours after launch. "In the past 24 hours, 1.8 Crore GMV done on Tez already with 410,000 active users," a Google spokesperson told IANS yesterday. [And a clarification]: In a televised interview with a news site on Monday, Google's Caesar Sengupta clarified that neither Google nor any user can store the Aadhaar information. Although some mention related to it was made in terms of services, that is for a future reference and the information is not stored currently.
Image Courtesy: Tez by Google. All rights, credits with Google.