The newest iPhone model, i.e iPhone X was released by Apple in Apple Park on September 12 by Tim Cook.
In case you are wondering Apple Park is the name of their new facility which looks and feels really eco-friendly.
IN August, invitations were sent out by Apple to all well known journalists inviting them to the new Apple Park HQ at 10 AM Eastern Time. Let's look at what we expected from the iPhone X (some rumoured it to be called the iPhone 8) and what we actually got.
Here is an example of the invitation by the way: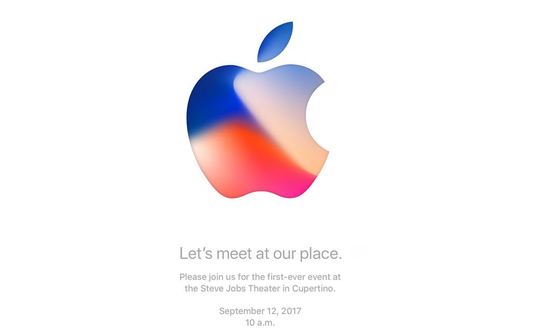 As has been historically the case,it was expected that the new iPhone X and iPhone 8 will go on sale on September 15 and hit stores probably by September 22nd or September 23rd.
What actually happened – Did the iPhone 8 Release as planned?
The event started right on time with Tim Cook on stage at the Steve Jobs theatre on campus. Tim started off by a speech in honour of Steve Jobs, talking about his contribution to Apple and the world at large. Then Tim talked about their new facility, about Apple retail and then went on to Apple Watch Series 3 launch.
– Highlight of the Apple Park, their new campus – powered by 100% renewable energy through Solar power. Open spaces with a community feel.
-Highlight of Apple Retail , a huge increase in customer and partner interaction through programs, events, in-store spaces. Great idea, considering happy customers are the best marketeers of any company's products.
– Apple Watch really stole the show – positioned to become a fitness and more importantly life saving health monitor – Available in stores from Sep 19 -'And it has cellular built in' . Don't need to carry your phone with you when on a run. The presenter showed how the Apple watch was able to call his colleague who was actually canoeing on a lake and it was incredible to see the sound quality managed by something that's not so not close to your face. A video which showed how the Apple Watch actually acted as a life-saving device for some by its monitoring features was an eye-opener.
Apple was expected to launch iPhone X, iPhone 8 on the same day where the iPhone 8 would be a minor upgrade to the iPhone 7 model. As one might well imagine tips were trickling in ( in-fact flooding in) about the rumoured and soon to be unveiled specs and special features of the iPhone X.
It being the 10th anniversary of the first iPhone so folks were expecting something special in the works. Let's look at whether the iPhone X stood up to the hype and hoopla.
Dates which were actually announced in the iPhone X Launch for Retail
Sorry folks, you'll have to wait a bit for the iPhone X will begin Pre-orders starting October October 27, 2017 and start shipping from November 3.
Expected Highlights of the iPhone X
1. A glass front and back panel and curved oLED display. Basically Edge to Edge display
2. The home button would thus be dropped with the display going right up to the edges.
3. According to an Apple Pundit – Mark Gurman , it is believed that touch scanning for security will be totally dropped in the favour of facial recognition.
So is this this just for novelty and as a consequence of increased screen size ?
According to sources, this face navigation would also be used to power an Apple integrated payments App which is contact-less and uses this technology to login and authenticate.
4. Rumours also indicated that Wireless charging may be offered in the new phone and frankly its about time.
5. According to this latest Guardian article, it is more likely to be labelled as the iPhone X.
6. Other features were supposed to include improvements such as the phone being able to tell when the user is looking at it (through facial recognition i guess) to silence notifications. New emoji called Animoji which'd be a 3d kind of emoji created through your face scan to imitate animated animal characters.
iOS 11 GM leak confirms D22 'iPhone 8' features: Portrait Lighting, True Tone Display, revised AirPods https://t.co/ydC7vwuoAo by @apollozac pic.twitter.com/8i3XiXXOXF

— 9to5Mac  (@9to5mac) September 9, 2017
Another report suggested the iPhone X may not arrive until 2018 for retail. A research note from Deutsche Bank, picked up by Business Insider, claimed the smartphone won't make it onto shelves this year due to supply chain issues and other "technical challenges".
However, German website Macerkopf claimed that pre-orders of all the three 2017 iPhone models, including the iPhone 8, would begin on 15 September.
By the way, here is a look of the Actual Apple iPhone X (iPhone 10)
Image Credits: Apple Newsroom

What really happened – The actual highlights from the iPhone X Launch
Launch Highlights
– OLED screen edge to to edge display
– Pre-orders start October 27, Ships from November 3
– Starts at $999
– Thicker and less slippery than the iPhone 7
– Face ID face recognition to unlock the phone
– Apple Pay is now different as well: instead of pointing your phone at the card reader and using TouchID, you first double-click the (larger) side button, authenticate with your face, and point the phone at the reader.
– Extra new Air Power charger available next year onwards – basically a wireless charger which can charge the iPhone, Apple Watch, ear pods, all at the same time
– Great for photos – Portrait mode for selfies, Quad LED Tru Tone Flash
– Yes, Animoji's are included.
– iOS 11 available for download from September 19
– iPhone 8 and iPhone 8Plus launched starting $699 and $799. It doesn't have face recognition but has wireless charging support, some other nifty features and comes in 3 colours with much higher storage options.

Rumoured / Expected Specs of the iPhone X
– 5.8 in 2.5D OLED edge-to-edge display – Yes they got it right
– New design with an 'all-glass' construction – No, actually it was Glass and stainless steel
– 71x143x7.4mm
– Wireless charging support – as mentioned in this report which itself quotes a KGI securities study.
– Apple A11 chip
– Rear-facing Touch ID sensor – NOPE they got it wrong
– iOS 11 with improved Siri, P2P payments
– Face-scanning technology
– Vertical dual cameras on rear – YES
– Support for LTE speeds up to 450Mbps
– New 6-core Apple A11 processor – YES
– One 12-megapixel camera on the back, possibly two, and 7-megapixel selfie camera on the front – Actually we got 2 rear cameras.
According to another analyst, iOS 11 which is bundled in the Iphone is likely to support this feature
iOS 11 (or the next iPhone) will have something called SmartCam. It will tune camera settings based on the scene it detects pic.twitter.com/7duyvh5Ecj

— Guilherme Rambo (@_inside) August 2, 2017
Actual Specs of the iPhone X
Specifications of iPhone X launched in Sep 2017
– 5.8 inch OLED display, 3D Touch, True Tone automatic calibration, 2436×1125 resolution
– 1,000,000:1 contrast ratio (typical)
– 5.65 x 2.79 x 0.3 inch in dimensions
– Face ID – simply unlock the phone by looking at it and it is built ONLY for you
– A11 Bionic chip with 64-bit architecture. With battery lasting 2 hours more than in iPhone 7. 6 Core processor
– Comes in 64GB and 264 GB
– Dual 12 megapixel rear cameras
– 7MP TrueDepth Camera with Animoji, Portrait Lighting etc.
– Wide-angle: ƒ/1.8 aperture, Telephoto: ƒ/2.4 aperture in rear cameras
– Two colors – Silver and Grey
– Splash, Water and Dust Resistant
– Bluetooth, Wifi and NFC
– EarPods with Lightning Connector
– Talk time (wireless ) – upto 21 hours
– Call Capabilities: FaceTime audio, Voice over LTE (VoLTE), Wi‑Fi calling
– 4K video recording at 24 fps, 30 fps, or 60 fps
What's included in the box:
iPhone with iOS 11
EarPods with Lightning Connector
Lightning to 3.5 mm Headphone Jack Adapter
Lightning to USB Cable
USB Power Adapter
Documentation
* Not an exhaustive list but a gist of the main specifications

Higher Expectations from the iPhone 10 – What people were expecting as compared to other Phones
If you ask the average smartphone user, who has probably used both Apple and Android phones, you will find that there is more expectation from an iPhone this time around.
And a feeling that innovation of other brands like Samsung and Oneplus needs to matched.
Here are some such aspects on which improvement was needed by Apple.
1. Screen size and Picture quality
Samsung is using OLED screens in its higher end models which gives a much better picture quality than the LCD screens of Apple. OLED also does not require back-lighting saving battery life. Moreover LG, Samsung and even brands like OnePlus etc. have upgraded their screen design so as it almost or fully covers the phone. In fact Edge to edge display which we're expecting from the iPhone 8 is already available in some high end phones.
Verdict: Delivered with a bang. The form feature has improved an oLED with Apple's own technical advances like True Tone display is a huge plus.
2. Storage needs to be higher and flexible
Apple's entry level iPhone 7 offers 32GB of storage, which is half the 64GB storage capacity offered by some Android phones. This needs to increase as competitors which are less expensive have already moved on to higher standard storage and also have expandable storage options. While it is unlikely that Apple will offer external storage, it can at-least increase the standard inbuilt storage to 64 GB. This is likely according to KGI Securities analyst Ming-Chi Kuo.
Verdict: With the higher storage options , this is more than enough. However a storage increase was much needed and not really a big innovation.
3. Faster charging and universal charger
Again Samsung and many other brands such as Oneplus are offering quicker charging including the famous 15 minute charging. The Wall Street Journal said in February that Apple is planning to replace the iPhone's Lightning port with a USB-C slot.
Verdict: BAD. Wireless charging offered. The new iPhones all support fast-charging, which can juice the phone from 0-50% in just 30 minutes. However: In order to make fast charging work, you need a USB-C power adapter which isn't including and neither is the USB – C to lightning cable. In-fact even the wireless charger is an EXTRA. Mercifully they do include the USB charger.
First Reactions to iPhone 8 Features – by Bloggers , Journalists, and us Users
We'll be adding user reactions and what the trade analysts and bloggers are saying pretty soon. Stay tuned.
How the Markets reacted to the iPhone X Launch
While shares were up more than 1% at times during the two-hour presentation by Apple, they closed down 0.4% at $160.91. The company's shares are still up 38.9% year-to-date to just put this in perspective. Analysts feel the minor drop is due to the iPhone X shipping moved to November so close to the festival season so as to probably miss some of the buying spree or purchase decisions. The other question which needs to be answered is with the Apple 4K TV, the Apple Watch, the iPhone 8 and 8 plus and finally the iPhone X , has Apple done enough to meet the investors expectations especially with the price point it is charging for iPhone X. This is a question that we will explore over the next few days and things will be clearer.
My first reaction here though is that some of the things unveiled , especially the features of iPhone Watch has literally taken my breath away. There is something called as superficial innovation, merely design and something called as true innovation. What Apple appears to have launched in its product is true innovation. Yes, some it is merely catching up with many of the other products – such as with wireless charging, greater storage and edge to edge design. But it is the sum of parts which matters and Cellular on Watch, Face ID are two really innovative developments with potential to be game-changers.
So what do you feel about the iPhone X specs, the way the launch was handled and it's price vs. performance outlook. Do let us know with your comments because at the end of the day it is your opinion as a user which counts the most