Atlanta is one of the most flourishing and growing economically powerful city within USA. It is also a great hub for Startups and Small Businesses. Lets take a look at what India can offer to Atlanta for Software Development, Mobile App Development and Web Design Outsourcing.
Summary of the Software Outsourcing Story for Atlanta
Atlanta Economic and Business Growth in 2017 and 2018
Atlanta Growth Stats: According to the Atlanta Regional Commission, Atlanta had its strongest year of population growth in 2016 since the Great Recession. Furthermore, the U.S. Bureau of Economic Analysis reports that Atlanta earned the 2nd highest "boom rate" among big-city economies in 2016. Of the country's 10 largest metro economies, only San Francisco beat Atlanta in 2016 in terms of growth, according to the organization.
Atlanta's information technology sector led the way in this growth, by contributing almost a full percentage point to total GDP growth. Other hot job sectors included insurance, finance, and real estate, in addition to the region's growing utilities, transportation, professional and business services fields. This growth continued forward in 2017 and 2018.

Employment Data: Data from a November 2017 LinkedIn Workforce Report on Atlanta showed that job seekers reported a 23.9-percent increase in hiring on LinkedIn between October 2016 and October 2017.
Notable companies in Atlanta: Atlanta houses many Fortune 500 companies including the Who's who which are decades old such as The Coca Cola Company, United Parcel Services, Delta Airlines and Southern Co.. Clearly , Atlanta's commercial sector is going places.
Many of these large companies use Outsourcing globally keep focus and expertise on their core business and save millions in cost – especially for IT services. This in turn has helped build a strong base for IT businesses and IT related startups in Atlanta. Let's examine this in detail below.
Atlanta's Focus on IT and IT driven Startups
IT and Software solutions businesses are booming in Atlanta. Demand for Software Development, Mobile App Development, Web Application development comes from Local businesses as well as nearby cities and areas. And top notch institutions such as Georgia Tech and UNG help supply talent for it's Tech industries.
Atlanta also houses Fintech companies such as First Data Corp. and many IT security companies.
Infact Cyber Security is an area of IT where Atlanta has a huge competitive advantage. In-fact, Atlanta alone has 25 percent of the global Cybersecurity revenue market share, according to the Metro Atlanta Chamber (MAC). A one page report on State of Georgia's IT Security / Cyber Security industry can be downloaded here . Source: Georgia.org

Download Report
Another evidence of the growing clout of this city in Technology space is
Forbes naming Atlanta
as one of "5 U.S. Cities Poised to Become Tomorrow's Tech Meccas".
Now lets look at how the SMB's are progressing in Atlanta.

Small and Medium Businesses in Atlanta and their IT & Online Marketing Needs
According to the GA Dept. of Labor, 278,125 business establishments represented GA employment in the 4th Quarter of 2018; of those:
1. 99.7% are categorized as small (fewer than 500 employees)
2. 94.1% employed fewer than 50 employees
3. 75.4% employed fewer than 10 employees
So if your employee strength is less than 10, you are unlikely to hire a dedicated or semi-dedicated IT resource for tasks such as setting up your company's website and maintaining it, or setting up a web portal, a mobile , or even a software system to support your business where required.
Then how do you get these tasks done ? The answer of-course is to Outsource !
The other arena where small but growing businesses like these will require a lot of help is Online Marketing. I doubt there is a single business which can ignore online marketing today. Be it on the mobile or web, be it SEO, Local SEO, Social Media Marketing or Content Marketing – online Marketing is a given requirement. And this is something again which any SMB should look to Outsource.
Not just Atlanta but whole of Georgia is highly conducive for SMB's and startups Across the USA. Lets see some quick facts for example:
1. Georgia ranks #1 in US for small business climate (NFIB 11/18)
2. Georgia ranks #2 in US for most startups by women (AMEX 9/18)
3. Georgia ranks #3 overall in US for best state to start a business (WalletHub 9/18)
4. Georgia ranks #12 in US as a top exporting state (Trade & Economic Analysis, 9/18)
5. Georgia ranks #3 in US for ease in starting and growing a business (WalletHub 8/18)
Atlanta Tech and Startup Scene and Successes
Atlanta is one such city apart from SF Bay, NY etc. which has become a growth zone for tech Startups. And it has seen quite a few successes.
According to a PandoDaily article by entrepreneur Paul Judge, notable Atlanta unicorns include AirWatch, acquired by VM Ware for $1.4 billion (2014), Radiant Systems, acquired by NCR for $1.2 billion (2011). In 2015, Premier Global Services was also acquired by Siris Capital Group for $1 billion.
Highly visible consumer companies such as MailChimp are from Atlanta. Another very recent Atlanta success includes Kabbage – a Fintech company which is making waves. 2018 has been an eventful year for Atlanta's startup sector with Pindrop from Atlanta raising $90 million in venture funding.
As another case in point, Tech Tribune came up with a nice list of tech startups from Atlanta.
Atlanta also provides one of the best infrastructure, facilities for anyone wanting to set-up a tech startup. An example of how Atlanta Startup's have given back to the city and helping new entrepreneurs is the Atlanta Tech Village which houses 100's of startups. Atlanta Tech Village is a venture by David Cummings, himself an Atlanta based Entrepreneur who sold his Marketing Automation company and invested much of it, to set-up this tech-space hub in Atlanta.
Another Survey has named Atlanta as the top 'Non New York, non San Francisco Startup city' as recently as in 2018. Here are some details. And another Article by O2E Brands collating various surveys has Atlanta as one of the top places to start a new business in 2018.
Clearly, Atlanta has a nurturing environment for Tech and IT. For Tech. companies which are bootstrapped before funding, outsourcing is a great way to build growth. All of these business either driven by IT or driving IT need to manage their IT costs and requirement – and outsourcing IT Solutions is one way to do so. Let's see how.
How Outsourcing is helping Atlanta businesses save budget on IT spends
Atlanta is one such business city of USA having lot of IT enabled businesses and services. Outsourcing ties-in very nicely with such IT Enabled businesses and is helping Georgia companies save billions of dollars.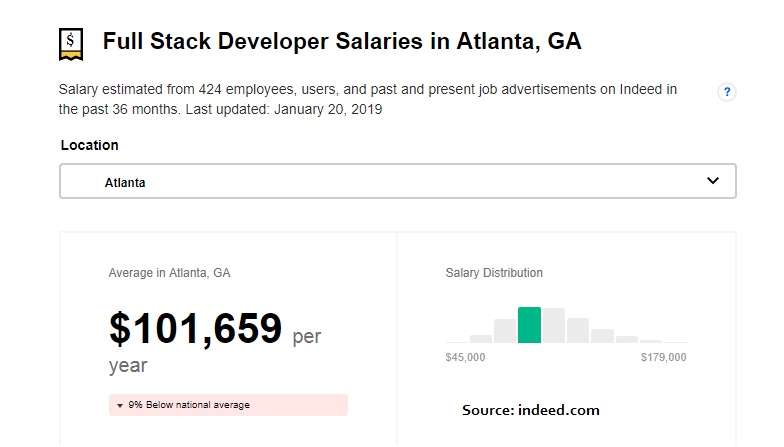 To get an idea of Savings, just have a look at a typical full stack developer Salary. If we go by calculations and consider that a bootstrapped company requiring a mobile app or Software product development hires:

A) 1 Full Stack Developer
B) 1 UX Designer
This is the bare minimum. Typically a consumer facing App or Solution will require an Architect and part-time PM as well. A Database designer may also be required for some period. Ultimately, this cannot be a hiring decision because the company will not require all these people once the solution or mobile app is completed, but only regular maintenance. So assuming it hires a company locally in Atlanta and typical Mobile App Development project lasts 300-400 hours, (Only for a small App, single platform !) – typical expenses could range upwards of $25,000.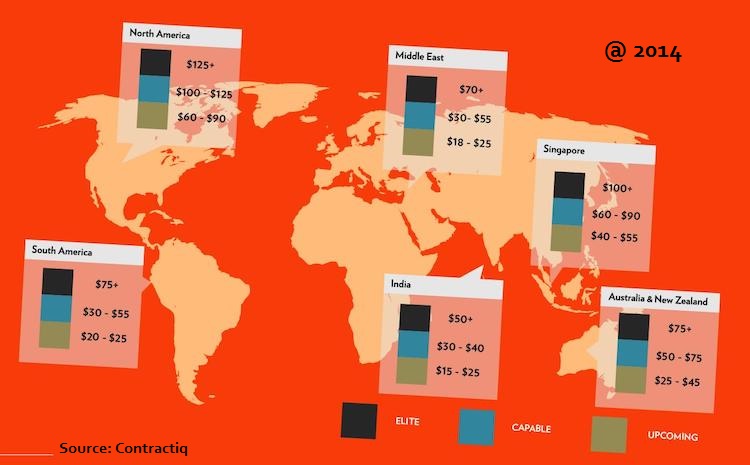 Atlanta Mobile App Development Cost Example - Local vs. Outsourcing from India
App Development: If you check as per the rates above, hourly developer rates in US are nearly 3 times that in India. And as we know from our experience, typical saving so 50%-60% are possible in medium to complex apps. As a typical example, an app which'd cost $15000 – $20000, when developed locally in USA, will probably cost $7000-8000 when done from India.
Software Product Development: Software Product development of a mid-scale average application based on web / or web-mobile takes at-least 1000 hours. A small scale product will probably takes at-least 500-600 hours. These need on-going management, feature addition, improvements, development cycles following agile methodology. Hence, Product development running into $50,0000 – $200,000 can be implemented with a saving of 60% or more if done in the right way offshore.

Saving $8,000 – $10,000 initial investment and an ongoing expense of $1000-1500 per month for a Small business can be the difference between a viable business plan and a non-starter.
Case Study of a Software Product Development Client:In this typical case, we created an end-to-end Pharma Analytics module based product for a Life Sciences Software Development company in less than $100 K which has till now generated a multi-million dollar revenue for our client.
Mobile App Development for Companies in Atlanta
First lets get a misconception out of the way that you can't built a great app with Outsourcing. That is totally incorrect. And there are examples abound to prove it. I'll just give you two big ones.
Did you know for example that development of an app like Whatsapp or Uber was partially outsourced without hiring someone full-time or only involving a tech. co-founder ?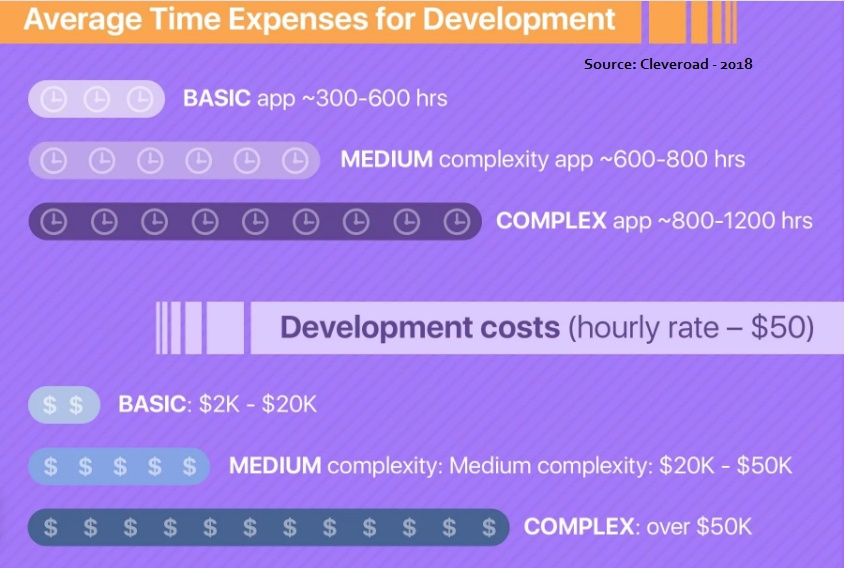 Just have a look at the costs in the infographic above(Source: Cleveroad ) and take an effective view. When considering creating your mobile app in Atlanta, by all means contact the local firms. BUT – have a couple of offshore providers in the fray as well to see what benefits and cost advantages they can provide. You can't lose. Even if you still decide to hire a local partner, you may be able to get a more competitive pricing considering the competition involved.
Software and Web Application Development for Companies in Atlanta that can be provided
In another article we will talk about the right way you can outsource your project such as:
a) Mobile App Development for your Business in Atlanta
b) Web Application or Software Development
c) Website Design , E-commerce Store Development.
d) Ongoing SEO, SMM Services with monthly plans
e) Complete Software Product Development
But for now, let me just say: All of these can save you 40% – 70% of costs if outsourced from India, without a compromise in Quality. There are just a few steps you need to follow for foolproof Outsourcing of your project to an India based vendor.
Getting your Mobile App / Web Portal or Software developed from India for Atlanta
So now that we've established that Outsourcing is a viable and in-fact great way for Atlanta based SMB's , Startups to get started with their website, App or Software needs; lets look at Why you can look towards India.
India and Atlanta share great economic ties and we've consistently rooted for more co-operation with Georgia and Atlanta based businesses. India has made great strides in B2B homegrown Software brands. ZOHO and Freshdesk are two prime examples of the same. Indian software development companies have the capability to work with bootstrapped to funded companies from Atlanta and covert Ideas to MVP's or MVPs to feature rich products.
India is perhaps the biggest force in Asia home to Unicorn Tech startups after China and has the biggest English speaking qualified work-force. Indian IT talent in Companies like Wipro, TCS, Infosys is working on Multi-million dollar projects with Fortune 500 companies. Even small web development and mobile app development companies have such skilled resources. These companies have been providing these services for years so have formal project management practices and processes in place, have tools, solutions and are in touch with the latest technologies.
Benefits for Atlanta based Companies to Outsource Software Development, Web Development , Mobile App Development to India
So in Conclusion, the benefits that you can get from selecting an Outsourcing partner from India include:

Huge Cost Advantage of 40%-70%
Cutting Edge Talent in Mobile App Development, Software Development from India
Flexible and need based on-demand solutions with no Capital or Fixed costs.
One Stop Shop Outsourcing from Indian Development Companies
Performance driven contracts and expert assistance
Choosing an Indian Outsourcing company as IT partner for your Business in Atlanta
We've talked about why outsourcing your technology needs can make a lot of sense, if you're an Atlanta based business. And also of why you should consider getting it done from India. Let's look at how you can Choose an IT solutions partner from India. We'll tackle this in detail in a separate article but here are the 5 steps we suggest to all clients irrespective of whether they are hiring for Mobile App Development, Software Product development Or Online Marketing etc. requirements.
– Define your Objectives and Requirements in Detail
– Ask the company for a formal proposal containing info. that you seek
– Shortlist and talk to the Management.
– Ask for references, work Examples and POC (if similar projects done).
– Award the project with a Project Management Plan in place.
AND Finally: now to our pitch 🙂
Offerings for Atlanta Software, Mobile , Web Development
So as you may have guessed it, we do provide Outsourcing for US, European and other Global companies. We'd love to work with Atlanta based companies who are looking to explore Outsourcing of their Mobile App Development, Web Application Development or Software Development. Some of you may already have used offshore development and some may be first-timers. In any case we are happy to provide a non-obligatory response to your RFP or even assist in formalizing your requirements by discussions.
So just call on us or INQUIRE here :
Yes, I want a Free Consultation.
Summary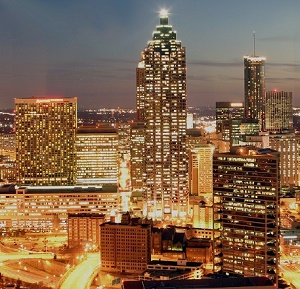 Article Name
Software Development Outsourcing for Atlanta from India - Can it work ?
Description
Atlanta is witnessing high economic growth and has a lot of IT enabled businesses. SMB's , Startups from Atlanta can drive growth through outsourcing. Software, Mobile App Development and Web Development outsourcing from India for Atlanta has a lot of potential. Lets see benefits, potential and how Atlanta companies can progress with Indian IT partners.
Author
Published by
Publisher Logo