Magento 2 and SEO for your store
Did you know that Magento has a lot of powerful settings and configurations which can help your Magento website's SEO ? Some of these are improvements in Magento 2 whereas some have always been there. Magento is of-course one of the most customizable e-commerce solutions in the market.
And this is true for SEO as well. The secret is in knowing what settings to use and how to configure a Magento 2 site to get the maximum out of SEO in 2019.
So, with the start of 2019 – let's look at: how to perform SEO on your Magento store through Configuration and Settings of your Magento 2 Admin Panel.
Summary of the 11 Tips and ideas we will cover
Magento 2 SEO Tip 1: Auto-generation of Meta Tags for Products and Category (Meta Title and Meta Description)
Here's how you can set it.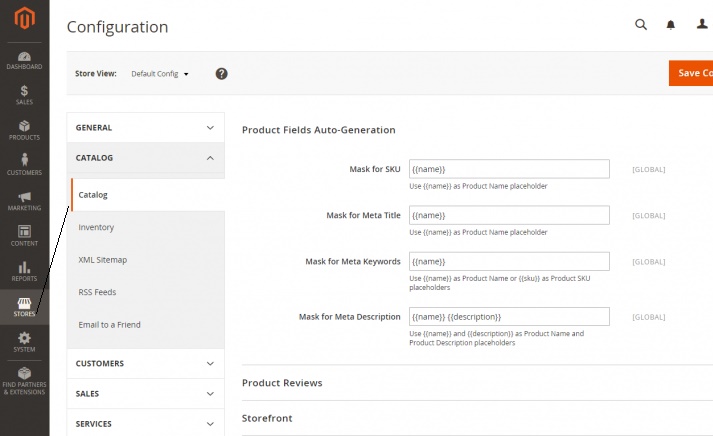 In Magento 2, one exciting SEO feature is Auto Generation of meta tags. When used at a global level, it will help you create product meta data templates. This new setting is available at: Stores >> Configuration >> Catalog >> Catalog >> Product Fields Auto-Generation. This is especially useful for stores with products in large numbers. But there are small limitations also. For example it has placeholders like SKU, Name and Description to use – but description is generally too big a field to be used for Meta Description, so be careful. And also it is global in nature and cannot be fine tuned category wise.
Of Course, you can also individually add Meta Title and Description at individual Product Level. Just go to Products >> Catalog >> Click on Edit product and scroll down to Search Engine Optimization. Then here you can fill Meta title and Meta Description. This over-rides the above. Finally if you are using Magento Import Export to import your products you can make use of Excel concatenate functions and transforms to bulk generate meta-descriptions which are useful in nature.
Tips for Effective Meta title: Keep length within 60-70 words which google normally allows. Use actionable words like 'Shop Now' or offers '..with free delivery' apart from the product name. Also remember to add the Meta Tags in individual pages be it About Page, Contact page etc.
Magento 2 SEO Tip 2: Optimize Product Images and Product Page
Page Loading time has become an important parameter affecting SEO and Product images impact this a lot. There are two aspects to Product Image optimization. First is optimizing the size so do not keep a size which is too much or not necessary at all. We've seen clients running stores where they were using product shot images as it is running into 1-2 mb each which was slowing their home page and causing issues. The second is Optimizing the image for Search engines by adding ALT tag to images. Another aspect is that the images should be stored in the newer formats which save space. A free resource for compressing images is PNGCompress or JPEGCompress for compressing your Magento Image sizes. Bulk resizing image tools are also available to resize image to web resolution. Apart from this, Magento 2 provides some options for page speed optimization which are discussed separately in Tip 10.
Product Page Content Optimization
Check out an example of optimizing a product page with it's title, description tags and the product image with it's alt tag below: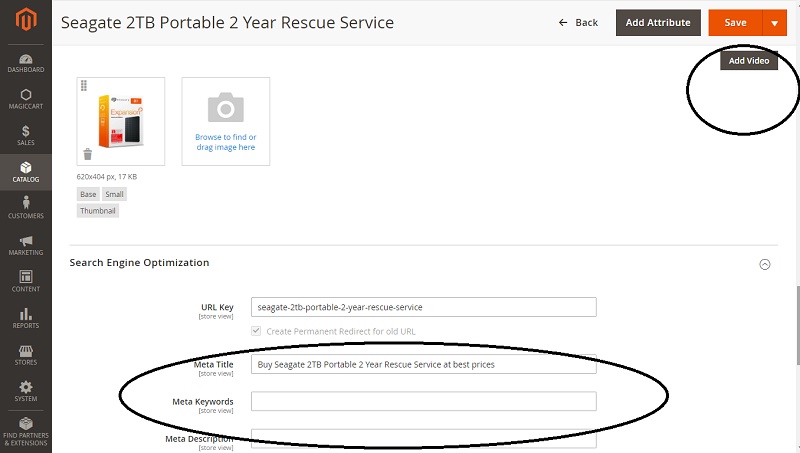 Lastly, setting up Related Products to your specific product is also a good way of making the page more relevant and user friendly. Related products most likely have related keywords and having keyword variations or related keywords does add to the on-page SEO.
Magento 2 SEO Tip 3: Rich Snippets and Micro Data for Google
Research has shown that E-commerce websites with optimized structured data markup (which results in search results rich snippets) get 30% more clicks with the attention-grabbing links.
Rich Snippets or Micro Data is one of the best features that Magento 2 has included. Schema.org's Product Schema has been added to Magento 2's default template, so you don't really need to configure for it, and it's all handled internally. By default, Rating and Review of the product page are supported in the schema. For advanced schema configuration and for additional schema for categories, breadcrumbs, store address, social links etc. – you do require third party extension. Luckily, some free ones are also available. For example, Welt pixel provides a free extension to set up rich structured data.
Magento 2 SEO Tip 4: Use Magento 2 Settings to Avoid Duplicate Content
In a Magento website, duplicate content may happen for category and product pages. This can be due to:
Product filtering
Product sorting
Pagination
Same product in different categories
Variation of the same product
Duplicate content is a common SEO issue that can affect your Magento store and you may not be even aware about it. To get rid of duplicate content we can use canonical tag Go to the Stores >> Configuration >> Catalog >> Catalog on right side move down to Search Engine Optimization and set Canonical LINK Meta Tags for Products to Yes and Categories to YES. So dynamic and other formed urls – such as those formed during SORTING, FILTER etc. will all point to a single category or product url.
There is another option: Use Categories Path for Product URL Suggested value for this is NO – so that if your product is in multiple categories, multiple URLS may not start getting crawled and included in SERPS diluting their page authority, causing duplicate content and so on.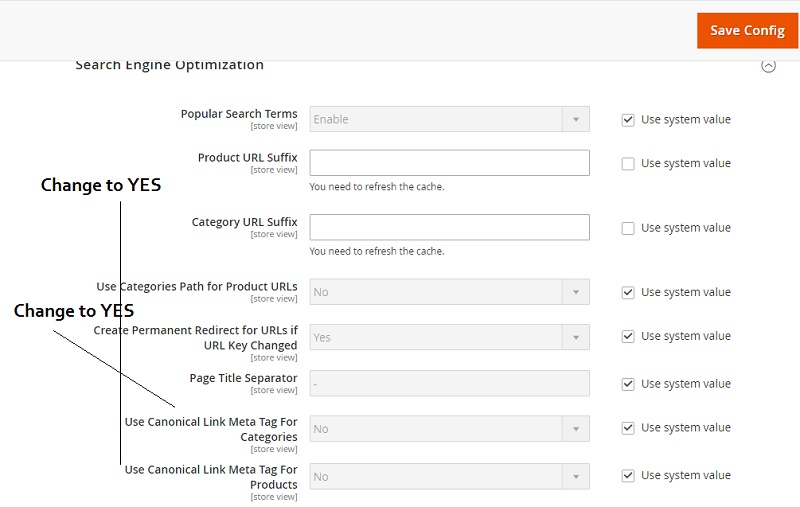 Magento 2 SEO Tip 5: Creating an XML Sitemap in Magento 2
– With Magento 2 you are now able to set priority and frequency for each page type like products, categories, and CMS pages.
– With Magento 2, the XML sitemap can be automatically added to the robots.txt file.
To create XML Sitemap for Magento 2 you can go to: Store >> Configuration >> Catalog >> Catalog >> XML Sitemap.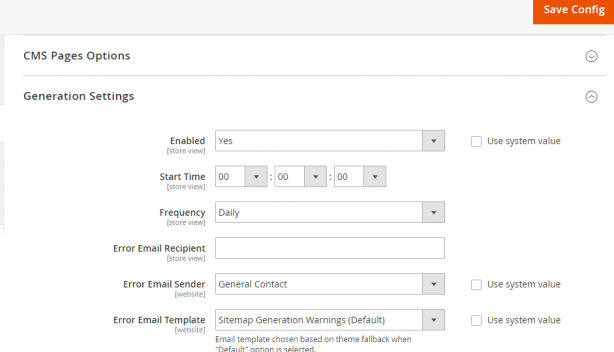 Here is a step by step example of how to create a XML Sitemap in Magento 2 which'll be very useful for SEO.
Magento 2 SEO Tip 6: Use Hreflang Tags in Magento 2 for Multi Store Views (Multiple Locales)
Many clients have e-commerce stores which service different geographies but with same language. For example, you may have a store aimed at the UK, the US, and Australia. IN such a case, as the content is in English only, the content will essentially be the same with minor differences like prices etc. in the page. But the generated complete urls will be different. So google may consider this duplicate content – and we don't want that at all.
Solution: The Hreflang tag was created to solve this issue. With this code, we can specify all the different URLs on your site(s) that have the same content due to geographical or language changes. Due to this google will not consider this is as duplicate content and in-fact add to seo friendliness of your content.
Magento 2 SEO Tip 7: Allow easy Social Share Integration
So, here we are advising you to provide for social sharing not just on your blog pages but even on the category, product and even the home page. Social signals is an important aspect of Google's SEO in 2018, 2019 and your e-commerce store should definitely allow for quick and easy sharing.
There are many ways to add Social Sharing in your Magento website. If you are using a paid or custom theme they are likely to have content blocks or widgets integrated which allow social sharing in the templates and you should study the theme and use these. The other is using extensions such as Social Share by Magebuzz
The third way is to use a tool like Addthis. We recommend AddThis as it is pretty easy to use, and provides very easy sharing with multiple social networks apart from the usual suspects i.e. FB, Twitter, LinkedIn etc. One also sees social proof via sharing count in this tool.
Tip: Here is a quick video tutorial by Addthis on how to add social sharing in Magento.
Magento 2 SEO Tip 8: URL Settings and its Configuration
8.1 Magento 2 has the option to preserve the same URL format for category pages when filtering options are used, which was not available in Magento 1. This will help keep the same URL while updating any filter or sorting options for category pages. This helps keep the url for category consistent and avoid backlink dilution etc, duplicate content warnings.
8.2 Check that SEO Friendly urls are enabled and Active
In Admin area, we go to: Stores >> Configuration >> General >> Web
Then, on this Page, Click on Search Engine Optimization tab and select Use Web Server Rewrites to Yes. This option removes the "index.php" from your URLs. Most likely this will already be set as default.

Magento 2 SEO Tip 9: Track and Measure your SEO and Paid SEM Efforts
Magento 2 provides for better e-commerce SEO tracking through Google Analytics and Google Adwords which can be set up easily. This feature is located in Store >> Configuration >> Sales >> Google API. For Google Analytics you need to have your Tracking ID handy and put this in the fields as shown below. You also need to enable E-commerce tracking in your GA account Admin Settings.
There is an option for Google Adwords tracking as well, in case you are doing Google Adwords based SEM for your Magento Store. Here you will be asked to fill your Conversion ID.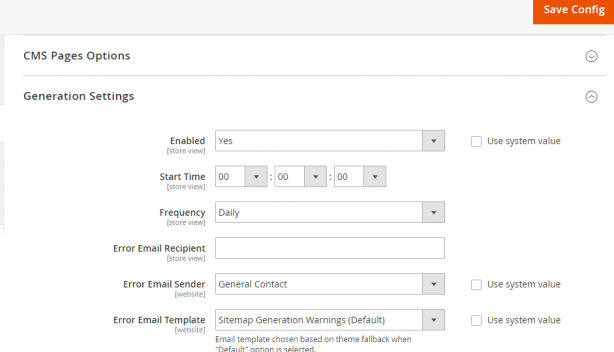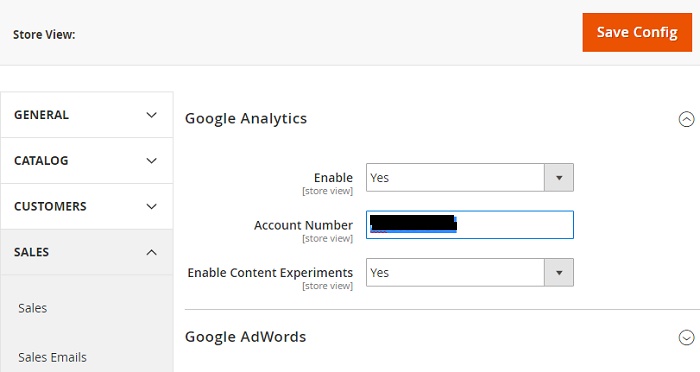 Using these options you can track conversions and performance of organic and ad based traffic to your Magento Store.
Magento 2 SEO Tip 10: How to Speed up your Magento 2 website for SEO ?
Fast page loading speed can influence search engine rankings and this is one of the top Organic Search Ranking Factors. If your website loads quickly, any user will love to access it and search engines will you priority. There are several ways to increase the page speed of your e-commerce store that Magento 2 has inbuilt into itself.
Note: Apply these tips once your development is complete and ready for production and not before.
Speed Tip 1: Enable all caching features (System >> Cache Management) and Flush Magento cache
Speed Tip 2: Enable Flat Categories and Products (Stores >> Catalog >> Catalog >> Scroll down to Use Flat Catalog Category and Use Flat Catalog Product >> Set Yes >> Save Config). Flat categories optimize the database and de-normalize with high performance gain. On the flip side, the category gets updated by Cron Job and also on changes, you may need to re-index on every attribute change etc.
Speed Tip 3:Merge your JavaScript and CSS files. This will reduce the load time and increase the page speed. Go to Stores >> Configuration >> Advanced >> Developer >> on the right side.
JavaScript Settings:
Merge JavaScript Files: Yes
Enable JavaScript Bundling: Yes
Minify JavaScript Files: Yes

CSS Settings:
Merge CSS Files: Yes
Minify CSS Files: Yes
Magento 2 SEO Tip 11: SEO through User-Generated Content such as Q&A, Review, and Ratings
Reviews , Ratings etc. have always been there in Magento 1 as well and should be allowed on your website – but only through registered users to avoid spam. This can be done at Stores >> Configuration >> Catalog >> Catalog. Now expand the Product Reviews section and Select No (to disable Guest reviews).
It is always wiser to: require users to create an account on your website before posting a review. This filters out fake, bot based reviews to a large extent. You are also able to moderate Reviews in Magento 2 in Sidebar >> Marketing >> User Content >> Reviews.
Creating Q & A section: A Q and A section for product pages will also be helpful for optimizing the page further and increasing keyword rich content. There are many plugins for this and you can check these out in the Marketplace.
Common SEO Mistakes in Magento and How to Avoid Them
Apart from the Tips above, let's look at some of the common SEO mistakes that store-owners commit and how to avoid them:
Missing out on optimizing title tags – especially for the Home Page: Magento has great features for SEO but remember that they need to be configured. The default meta-tags , title tags on your home page, shipping, aboout etc. page, and Category etc. pages need to be SEO friendly and targeting the prime keywords. Google allows 70 characters in title tag so use those wisely. 'Home' isn't a great title for your Home Page and needs to be changed.
Optimising both Https and Http versions of the website: This is something that many Magento store owners miss out on. Google regards http://yourstore.com/yourproduct and https://yourstore.com/yourproduct as two different pages and you do NEED to make sure both are not being indexed as separate pages. Follow these steps to default to the Https version (even if http version is typed) for any url :

1.Setup a valid SSL for your website
2. Add a Base secure URL
3. Create 301 HTTP redirects to HTTPS
4. Implement HSTS
Note: HSTS should be enabled in the configuration because with it enabled, web browsers automatically change any insecure requests (http://) to secure requests (https://). This secures against SSL protocol attacks.
5. Refactor hard-coded URLs
6. We also need to Generate a new sitemap – Since the urls have changed and use https now
7. Submit to Robots.txt file

Forgetting to tweak the Robots.txt file properly: The Robots.txt file is available in the root folder and the best way to optimize is to download it and edit it for best results before a store launch. You can refer to resources such as this as example of good Robots.txt settings for Magento 2. As you will see: sensitive urls, checkout pages, admin directories and pages such as search page results, comparison results etc. are some of the pages to exclude as they are not relevant for SEO and only dilute the content.
Missing out on product page optimizations – like the kind explained above in Tip no. 2. We advise clients to keep special emphasis on their product pages. Small bits like ensuring keyword or keyphrases are their on ALT tags, title and description tag optimization, allowing reviews etc. is quite important.
Have a SEO and SEM launch strategy in place once your store is launched: This is really important. You have an e-commerce store out there on the internet with world class 5000 products but nothing is happening. Why ? Probably, because no one knows about it.
If you had a physical store, you'd have probably launched it with a party, marketing, leaf-letting and what not. What makes you think a proper SEO launch is not required as well. The first 2-3 months after an e-commerce store launch are crucial and you should have a SEO, Social Media Marketing , Content Marketing and Advertising strategy in place. This is a huge topic and will be covered separately but just something to keep in mind.
Conclusion
Magento 2 Offers a lot of good options for SEO enhancement and settings to improve your search engine rankings in 2019. These include new configuration settings such as auto-generated meta-tags for products, categories , as well as pre-existing config options such as for canonicalization, sitemap etc. By following this Magento 2 SEO guide and spending a couple of days on your Magento website's SEO, you can gain a lot and can be a good difference to your SERP. However along with doing all this , you also need to do some keyword research and also have a SEM, content marketing and Back-linking strategy in place.
So do call or inquire with us for the following services or any other services related to Magento that you'd like:
Inquire to Get the details.
Summary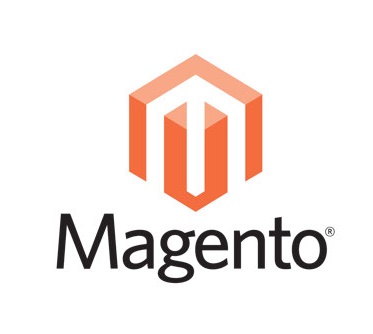 Article Name
Top 11 SEO Tips for your Magento 2 Ecommerce Website (for 2019 & beyond)
Description
11 SEO tips & tricks for optimizing Magento 2 Store , Website. Use this SEO checklist, tips - canonicals, keyword settings, seo friendly urls, product page etc. in 2019 for best results.
Author
Published by
Publisher Logo