W
e WANT our
Classic WordPress Editor
back ! Gutenberg Go away ! Come again another day…. a wordpress developer wants to play.
Sounds familiar… Well, it just might.
Today i thought it was going to be just another day. But I was wrong !
Woke up to the smell of coffee and those 'good intention-ed' notifications from WordPress declaring they have updated our site to 5.0.2 . So the 5.0 is a major update for WordPress and one of the bells and whistles it has brought to the table is the Gutenberg editor becoming default. Yes, the editor has been there for some time, but now it has become DEFAULT with the wordpress 5.0 update released on December 6, 2018
Don't get me wrong . The Gutenberg editor for Worpress may well be nice and good. But it's new and shiny and needs some time getting used to. And for those who liked the clarity and simplicity of the old and ease of switching to a code view… well, nothing like driving your old dependable car.
The second shock I got was when I started work on a wordpress website for a client a few hours later . WP Bakery was installed in the theme and sure enough had been activated nicely.
BUT I just saw the Shiny new 'Block' Gutenberg editor on the page I wanted to edit. Clearly something was wrong.
It didn't take me long to find out. Turns out there had been some notifications regarding the same but for those of us who may have missed it… well basically there seems to be a clash between WPBakery and this new Gutenberg editor which hides and disables the WPBakery option on the edit pages and post screens. Clearly this is temporary and WPBakery may release something compatible even tomorrow.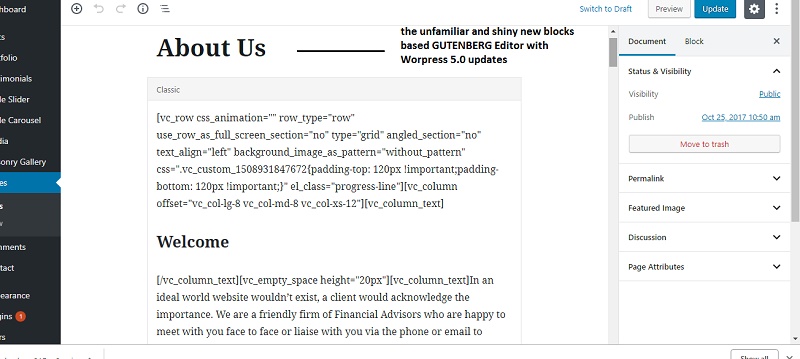 SOLUTION: BUT For those of us who just liked the old classic editor – the issue is quite related. Apparently , you just need to get the old classic Editor enabled and the WPBAKERY plugin will work like before and appear in new page /post creation options. And yes, old wordpress sites which get updated to 5.0 will also face this – apart from new installs.
How do you get the OLD WordPress Editor back after the WordPress 5.0 updates and Re-enable WPBAKERY TO work.
It is quite simple and here are the steps in this short tutorial.
Total time to Implement : Less than 3 minutes.
A) Step 1: Go to Plugins > Add New > (Search for 'WordPress's Classic Editor' )
B) Step 2: Install and Activate the Classic Editor (What else :))
Tip: It takes only a few seconds to install the classic editor and you can activate it there and then. No additional settings required.
C) Step 3: Check back re-opening the Edit Post or New post and you will See WPBakery is re-enabled
It is not only the WPBakery which may get impacted. Other plugins like Shortcodes Ultimate etc. may stop working abruptly with the new WordPress Gutenberg editor and this changeover may solve those issues as well. However it is best to start getting used to the new editor over the long run.
Alternate solution: There is also the Disable Gutenberg WordPress plugin being touted as another solution to hide the new editor and bring back the old one. But we feel the the Classic Editor plugin is the official recommended plugin to restore the old editor, and has huge no. of installs and official support. Yes this second solution is certainly supposed to be more lightweight but the classic editor install just worked for us and we're going with it.
After all the name of the technology game is change !!!

PS: Looking for wordpress website development in Delhi or India. Reach out to us at the link above and maybe we can help you.
Summary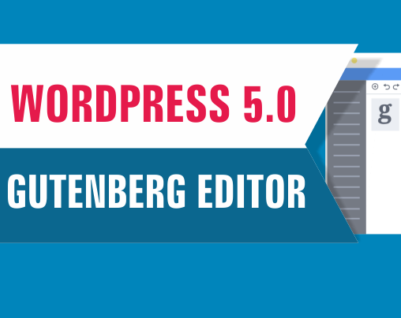 Article Name
Why WPBakery disappears with new Wordpress 5.0 | How to get the Classic Wordpress Editor back ?
Description
Don't like the Gutenberg editor ? Want the old Wordpress classic Editor back ? With wordpress 5.0 Gutenberg becomes default but you can get old plugins like WPBakery back and also your classic WP editor. Tutorial tells you how....
Author
Published by
Publisher Logo