Let's talk about:Cross Platform App Development services by our company (Benefits , Process, Services, Examples)
Why go for Cross platform Mobile app Development
Cross platform mobile app development allows you to develop the app for multiple devices together leading to lesser development time and Time to Market
Cross platform app development allows considerable saving in cost over individual native app development done for multiple platforms separately.
Such app development allows for easier maintenance, easier project management and easier testing – basically all phases of the software development cycle – since most of the code is a singe code base
Cross platform mobile apps will allow you to apply advanced software development methodologies such as Agile methodology
Cross platform app creation allows you to release features quicker and in sync for all targeted devices
Would you like to know how you can save costs with Cross platform app development: Inquire Now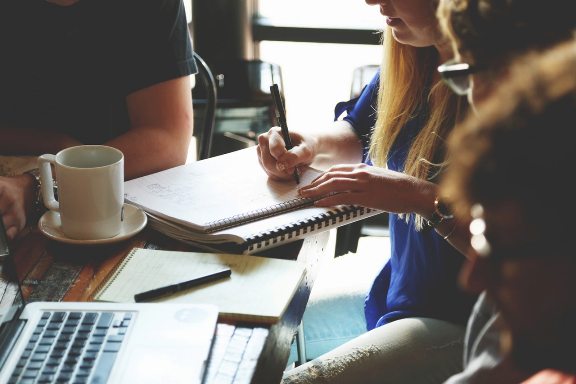 Cross Platform mobile app development refers to development of mobile apps which can be used on multiple mobile platforms or device types ( such as Android, iOS , windows device).
WHAT is it ?
We decide on technology decision based on your requirements and any discussions held with your during the discovery phase. Pros and cons and impact on performance, usability, libraries available are some factors considered.
HOW we decide on the technology ?
Whether to use cross platform development or not should be decided during the discovery phase and before actual development of the app. A proper cost benefit analysis should be conducted based on app's proposed usage and users.
WHEN to implement ?
Our company will guide you through the whole process. Not all companies are having the resources or expertise to provide such kind of services. But we are one such
mobile app development company from India
which can surely assist you.
WHO to contact ?
iOS vs. Android (Which to use or both ?) for your mobile development
iOS and Android are the two main platforms for mobile development. The situation is now such that most companies wish to develop apps for both platform especially in the USA. According to reports in June 2017 – iOS device usage in the US stood at around 46% to Android's 53% , with iOS having grown on YOY basis. Compare this with India where Apple's iOS penetration is below 5% . However, the % for a market demographic with high purchasing power is really high in the iPhone users segment. Basically anyone who uses an iPhone is a prime target for marketers for a host of medium and high end services as well as sophistication and comfort with mobile transactions. So for example, if you have a food ordering app, or a fashion discovery and purchase app, or an for cab services, you cannot ignore the iOS device users even in a low penetration geography like India. But obviously this depends on the target market , objectives and use case of your app , so it is something to be properly analyzed on a case to case basis.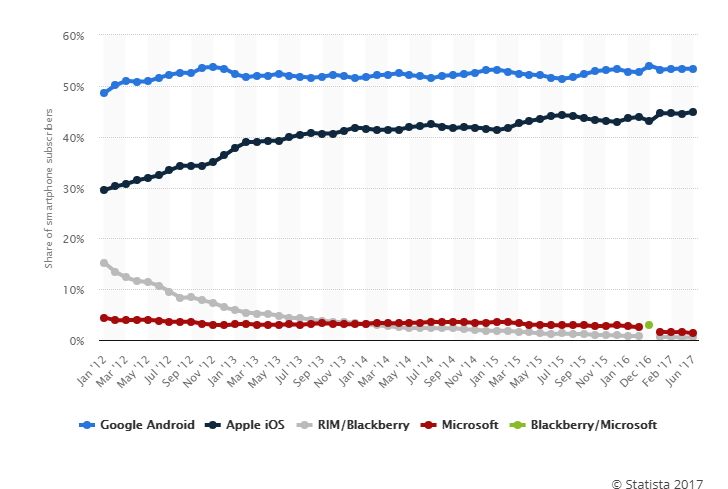 Image Courtesy: Statista, 2017
Technologies used by companies for Cross Platform App Development
Xamarin (using C#, Xamarin.Forms), Cordova / Phonegap, Ionic Framework, Sencha Touch are some of the technologies in use when building cross platform apps. We choose the technology subset depending on your app's use case to provide a near native interface with best performance and functionality. The discovery and development phase of the application development proceeds as usual but obviously with leaner development cycles.
Due care and focus is kept on ensuring low latency and near native performance from the app. The Cost advantage of a cross platform app may result in a saving of over 30%-40% over the total cost of independently developing a iOS and android app independently.
Get a free quote now to see the power of Cross platform app creation: Inquire Now