Development of On Demand Logistics Mobile App for Trucks, Transporters, Logistics Providers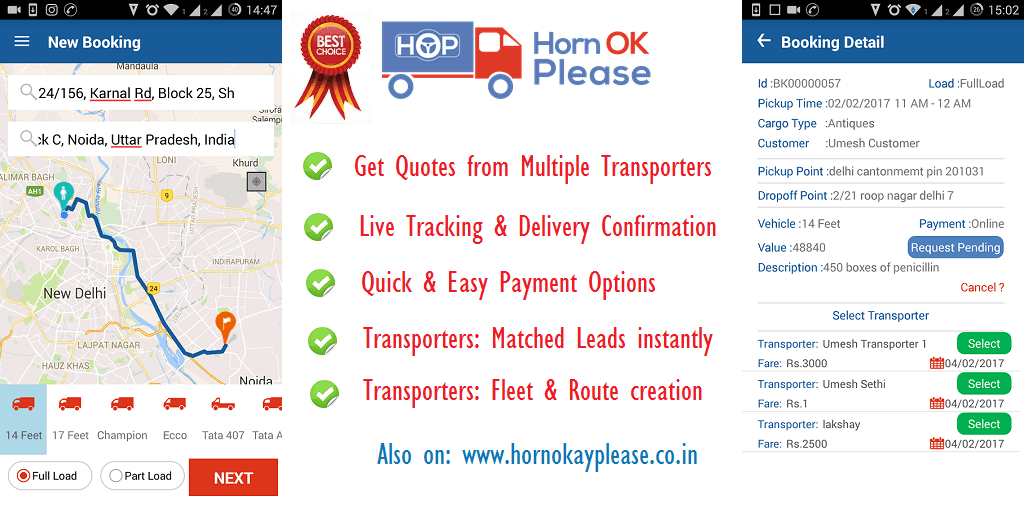 Key Features and Learnings
Android app with Web application integration
Transport aggregation with google maps integration and live tracking
Payment gateway integration
Innovative model for vehicle booking and even fleet management feature for transporters
OTP, SMS, all the normal features
Calculation for Freight Charges and Labour etc. as well as waiting period
Route selection and management
1 - 1 interactive console between transporter and customer.
Live on google play at Horn OK Truck Booking App
We can develop android / hybrid apps on platforms such as Cordova - Phonegap / Ionic at a reasonable price.
Some of the applications which can be developed on mobile for Logistics include: On Demand Logistics and Trucking Mobile app Development, On Demand Bus / Auto etc. hire, Courier and Parcel Delivery Mobile App, Medical Transportation or Cold Storage Transporation and Tracking Mobile App development.
Our company is able to complete the whole process from app design to back end development to integrations, testing and launch.
Would you be interested in knowing more?. Give us a call or just fill our contact form and our Logistics mobile app development experts will get in touch within 24 hours.