Product Development Outsourcing Success Stories
In a recent project we came across a challenge to develop a working and scalable MVP for a universal verification tool for casual workers and labour. It was to be developed on the Ruby on Rails platform and at a very competitive price. We've risen to the challenge and have been able to deliver the required solution which is one of a kind. Using Agile tools, pre-built components and gems, and bootstrap design - the solution was quickly assembled with all the required functionality.
Earlier this year we were approached to develop an real estate CRM platform for an ISV which supports all the features of current CRM's but has additional data security and is able to be provided as client - hosted solution. The solution would provide broker management, Project management, Inquiry management, Task management and many other features including integration with realtor web properties.
For a logistics and freight forwarding company in UK, we managed to develop a solution within 3 months which now processes close to a thousand parcels a day and is the central pillar of their IT system which manages freight movement, manifest creation, delivery, automated notifications, tracking etc.
A special case of software product development is mobile app development. We are a mobile app development company for Gurgaon, all of India and abroad. We've provided mobile app development for Logistics, ecommerce, B2B, social apps, and many other sectors. Another special service that we provide is by working as an iPhone App Development company. Inquire to find out more regarding these services.
You can find complete details of our product and software development success stories in our case-studies section
Would you be interested in knowing more?. Give us a call or just fill our contact form and our representative will get in touch within 24 hours.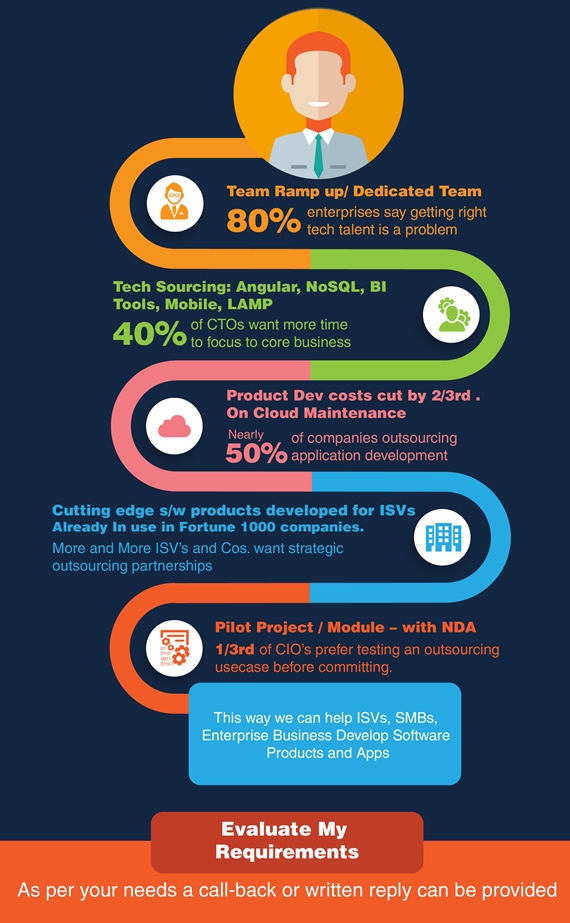 Types of Product Development Undertaken: ERP, Custom Software Development, App Development, Web Application Development
We undertake many different kinds of Product Development outsourcing for our clients. Many times, off-the-shelf softwares will not be useful for your company's need. We have found that even for as routine process flows such as HR, Logistics, your company may require a software that maps exactly to your Business Process , automates or improves it and a packaged software will just not find. Besides many of the legacy products are desktop or non universal in nature and now we require progressive, mobile friendly applications. This is where we provide the following:
01

In-Depth expertise in Logistics Web based Software or ERP.
02

Customised web based Inventory management software.
03

Analytics software developed for Pharma Pricing / Solutions.
04

Web based Software / Cloud based solutions on Php, Ruby on Rails, Node.Js, Python
05

Replacing Legacy Software Solutions with Responsive, Mobile friendly solutions in newest Technologies.

Do write in to us with the product idea or solution that you are looking for and we will be glad to help.