Here's some good news for Android Device owners – especially those who like to shop online.
On Monday, Amazon launched it's AR View feature to it's Android app now making it a more interesting and life-like experience for Android device owners when shopping online.
iOS users have already had this feature launched by Amazon first in early November 2017 but with the release of Google's ARCore 1.0, Android users finally have the capability.
Why is the AR View Experience Important for Brands and Customers
As a home-owners, there are some things you just need to see how they'd look in your house: For Example that Vase on your fire-place or TV table , or the Sofa in your living room. Well, you don't need to wait too long because AR View provides you with this feature. Traditional retailers such as Ikea etc. have already started to use AR allowing users to get a feel of their product but Amazon has jumped into this as well. And with the launch of their Android feature, looks like we'll see more innovations.
Augmented reality allows users to overlay digital renderings of items onto their homes through their phone screens. These are smooth, life-like and it would be very hard to distinguish between the rendered item and an actual item placed. In short, you are able to see how the item will look in your living room, bedroom or elsewhere. Thus increasing conversions and sales for retailers and providing you – the consumer, a great shopping experience. All from the comfort of your home.
How to use the AR View feature in Amazon Android App ?
Available to iOS users since November, this app feature lets you view items on Amazon virtually in your home, now on Android as well.
Tens of thousands of items are already available to view, including Amazon Echo products.
To use AR View, your Android device needs to support ARCore 1.0. Check here at the ARCore's Google PlayStore page to see if your Device is compatible.
Once you've got the ARCore app installed, make sure you're running the latest version of the Amazon app. This is cause the feature has just rolled in now and you obviously need to have it updated in your App.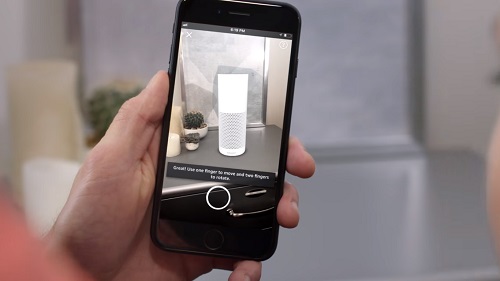 Open the Amazon app and hit the camera icon in the search bar. You'll be presented with some view choices. Select AR View, and you can check how thousands of items will look in your home.
Check out Amazon's video demo of the feature here.
Allow the app to find a flat surface , tap the screen, and then – Wham – the sofa or bookcase appears in your house through the camera view.
Happy Shopping. By the way if you're looking to buy the Best, Newest and Latest Amazon products and reviews, check out our Gadgets Review and Guide blog here for the latest trends, deals and reviewed products.
The addition of this feature to it's Android app is a good step but still improvement is needed on how to access it directly from wishlist etc. The feature does seem to work with life-like feel of the product and hence is likely to help Amazon boost sales and customer satisfaction.